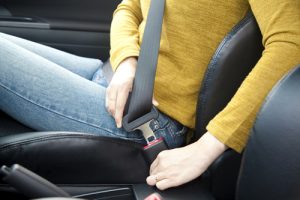 Seatbelt use is more popular in some countries than others.  It is hard to pin down the exact reasons for this difference.  Some people think the differences might have to do with education. Some people think different attitudes to safety or driving cause the issue. Some people think there is a difference in the number of seatbelts in vehicles that create the difference. A lack of education might be a good bet though.  It seems as though some people have assumptions about wearing seat belts that do not hold up to the facts.
One myth is that it isn't necessary to wear a seatbelt if you are sitting in the back seat.  This is not true and a dangerous assumption according to the American Center for Disease Control and Prevention (CDC).  In fact, more people are injured who sit in the backseat for the sole reason that they are less likely to wear a seatbelt.  Countries like Japan and Italy see a significant drop off when comparing front seatbelt usage and backseat.  Japan's drops from 98% to 68%, and Italy drops from 64% to 10%.   Canadians, on the other hand, should be proud! Canada and Germany are the countries who do best with seatbelt compliance.  In Canada, 92% wear their seatbelt in the front seat and 85% in the backseat.  In Germany, 94% of people wear seatbelts in the front seat, and 90% of the time in the backseat.
Maybe an education campaign about backseat seatbelt use would be helpful in the countries that have poor compliance.  Or maybe the law should step in and make it illegal to travel in a vehicle without a seatbelt.