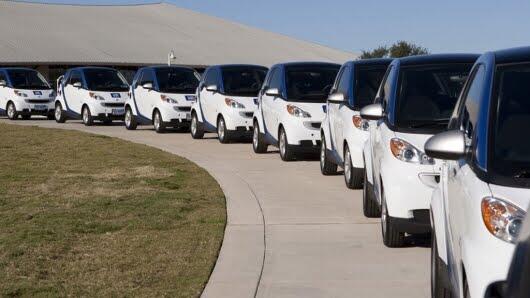 Derek Brown's Academy of Driving prepares you for the road, but there is a lot more to driving than just skill and understanding the rules of the road.  As the need to get to and from places conveniently becomes more balanced with conserving energy and affording more expensive gas prices, finding green and cheaper ways to drive is becoming a bigger and bigger industry.  The state of New York recently decided to offer a grant of 1.2 million for ideas to reduce fossil fuel use that is being used to fund 70 separate projects to save fossil fuels across the state.
Carsharing can be a great way to get around.  You'll be helping the planet just by not purchasing your own vehicle.  20% of a vehicle's total energy expenditure goes into comes from its production.  That is equivalent to 2,000 to 3,000 liters of gasoline.  That's a lot of gasoline that you can save by participating in a carsharing program.
If you live in Calgary or other large city, you know that companies have started to create large carsharing networks.  These companies place small cars all around the city that any person that signs up with the company can drive around for a fee that is much less than a cab and much more convenient than public transportation.  It's a great way to get around if you are an urbanite.  It beats an expensive and hard to find taxis.
One great carsharing company is Car 2 Go.
If you do not live in a big city, driving a hybrid car, electric car, or just a smaller car can allow you to leave less of a carbon footprint.  Hybrids can be an especially good idea if you live away from necessities like the grocery store or if you drive a lot for business purposes. The gas savings can make a hybrid worth it without even taking into consideration the environment.
In our driving school, you'll learn even more about safe and cheaper driving habits. Sign up today.
The photo is from Car 2 Go a Calgary Car Sharing website.
Our driving school is in Calgary, Alberta.