Calgary PDIC Course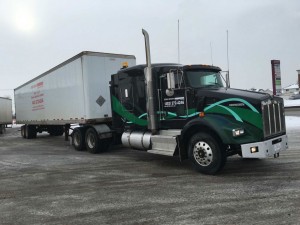 PDIC stands for Professional Driving Improvement Course, which is a specialized training program designed for truck drivers. Our PDIC course focuses on enhancing the skills and knowledge of truck drivers to improve their performance, safety, and professionalism on the road.
You can take this course in our classroom or online.
Successful completion of this course by 80% will qualify the student for a 3 demerit points credited to their Alberta driver's license.
The classes are held every other Saturday in our Calgary office from 9:00 am until 4:00 pm.
More Info About Professional Driving Improvement Courses
For the online course, see below.
*All fees must be paid in full before appointments can be booked
price subject to change without notice
Take this Course Online
Derek Browns Truck Driving School now has an online course for PDIC (Professional Driver Improvement Course). The online Professional Driver Improvement Course covers the same curriculum as the in-class course and is just as effective in providing information to commercial vehicles drivers who exhibits high-risk driving behavior, such as multiple moving violations and NSC violations including distracted driving which can prevent collisions. This course costs $95 and you can take it at home on your own schedule.
Course Structure:
Derek Brown's Driving Academy PDIC course follows a structured curriculum that covers all the essential aspects of professional truck driving. The course is designed to meet the requirements set forth by Alberta Transportation, ensuring that participants receive the necessary training to obtain their Class 1 or Class 3 commercial driver's license (CDL).
Classroom Instruction: The course begins with comprehensive classroom instruction. Participants learn about traffic laws and regulations, safe driving practices, vehicle inspection procedures, and the importance of defensive driving. This theoretical foundation is essential for building a strong understanding of the rules and responsibilities of a professional truck driver.
Practical Training: Participants then move on to the practical component of the course, where they receive hands-on training. Under the guidance of experienced instructors, students learn essential driving skills, including vehicle handling, maneuvering, backing up, and turning. The practical training takes place in real-world driving scenarios, allowing participants to develop confidence and competence behind the wheel.
Professional Skills Development: In addition to driving skills, Derek Brown's Driving Academy places emphasis on professional skills development. Participants learn about trip planning, load securement, and customer service. These skills are vital for successful operations as a truck driver, enabling participants to handle logistics efficiently and provide excellent service to clients.
Safety and Emergency Procedures: Safety is a core focus of the PDIC course at Derek Brown's Driving Academy. Students are trained on emergency procedures, defensive driving techniques, and how to handle challenging situations on the road. By emphasizing safety, the course instills in participants a mindset of responsible driving, prioritizing the well-being of themselves and others.
Benefits of Derek Brown's Driving Academy PDIC Course:
Reputation and Expertise: Derek Brown's Driving Academy has a solid reputation in Alberta for providing high-quality driver training. By choosing their PDIC course, participants can benefit from the expertise of experienced instructors and a program that is respected within the industry.
Personalized Instruction: The academy strives to provide personalized instruction to its students. This approach ensures that participants receive individual attention, allowing for a tailored learning experience that addresses their specific strengths and areas for improvement.
Job Placement Assistance: Derek Brown's Driving Academy understands the importance of job placement after completing the course. They often have connections with trucking companies and can assist participants in finding suitable employment opportunities, increasing their chances of securing a job in the industry.
Supportive Learning Environment: The academy aims to create a supportive learning environment where participants feel comfortable asking questions and seeking guidance. The instructors are dedicated to helping students succeed and develop the necessary skills and confidence to excel as professional truck drivers.
Conclusion:
Derek Brown's Driving Academy PDIC course offers aspiring truck drivers in Alberta a comprehensive and reputable training program. With a combination of classroom instruction, practical training, professional skills development, and a strong emphasis on safety, participants gain the knowledge, skills, and confidence required for a successful career in the trucking industry. By choosing Derek Brown's Driving Academy, individuals can benefit from a supportive learning environment and the expertise of experienced instructors, paving the way for a promising future as a professional truck driver.