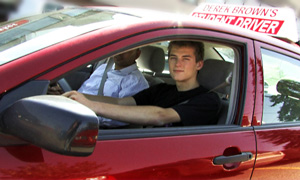 We have provided drivers' training since 1970, Derek Brown's Academy of Driving has grown from a 1 car driver training school to a true driving academy with an entire fleet of 15 cars and 6 trucks.
We provide courses for beginner drivers, brush up courses for experienced drivers, trucking courses, winter driving courses, seniors' driving courses, and more. We even offer customized courses specific to your individual needs.
Check out what some of our satisfied students have to say about our driving school. And check out our Calgary driving school home page.
WHO WE ARE
We are proudly local, through-and-through. Over the past 46 years we have taught generations of Calgarians to safely and skillfully navigate Calgary's roads and highways. We take the utmost pride in training responsible drivers who not only follow the rules of the road, but also understand them.
Our professional driving instructors create a friendly learning environment that is interesting and keeps stress to a minimum. Your success is our driving goal.
WHAT WE DO
First and foremost, we train quality Calgary drivers. We place an emphasis on responsible driving in all our courses, taking the time and attention to ensure our students hit the road with the practical skills, confidence, and knowledge necessary to stay safe behind the wheel.
HOW WE DO IT
We offer Calgary drivers training in a classroom, in a car, and are in the process of even offering an online driving course. We use multimedia presentations, practical driving experiences, and the traditional classroom environment to deliver comprehensive drivers training courses that accommodate every learning style.
WHAT WE OFFER
We offer Calgary drivers training in the following: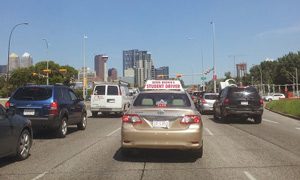 • Class 5 License Training
• Defensive Driving and Demerit Reduction
• Brush-up Lessons
Professional Truck Driver Training:
• Class 1 License Training
• Class 3 License Training
• Q Air Brake Endorsement
See inside our Calgary Driving School