Best Calgary Driving School: Derek Brown's Academy of Driving
Why We Rock
Because:
You'll get $100 off for our basic Class 5 course package (both automatic and manual cars) if you call now. Call 403-272-4246.
You'll never have to wait at the bus stop in bad weather again after you learn to drive at our Calgary driving school. We make it so easy. Yes, you can do it with our help!
At our driving school, we have decent prices and friendly people and that makes all the difference for you and your experience.
With us, you'll feel relaxed both in our classroom driving lessons and behind the wheel. We make learning to a drive a car or truck easy and fun.
You won't be bored or stressed in the classrooms at our driving school in Calgary. Because we have multi-media lessons and friendly instructors!
Once you finish our Class 5 and Defensive Driving courses, you'll reduce your insurance costs or demerit points.
You can start your new career as a truck driver at our truck driving school.
We take the fear out of Calgary winter driving. We can teach you how to drive on icy and slippery roads.
We offer a bunch of driving school courses and driving lessons.
Derek Brown's New Online Driving Course
Derek Brown's Academy of Driving is pleased to announce our new Class 5 Online Driving Course.  After years of software development, the Alberta Department of Transportation has approved our online driving school.
Learn to drive without leaving your home.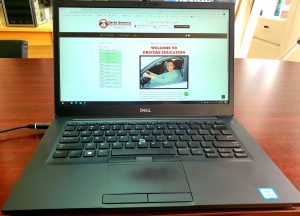 Derek Brown's Academy Address:
We are located at 1809 42nd Street SE Calgary AB T2B 1G1.
Our driving school has plenty of parking on the east side of the building. There are stairs to our second floor office.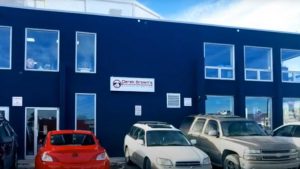 Grandma Learns to Drive at Our Driver Training School: 86-Year-Old Finally Gets License With Help From Granddaughter and Derek Brown`s Academy of Driving | CBC short docs
Check Out Our New Driver's Education School!
Watch this video to find out about our driving school.  We have courses for Class 5, Class 3, Class 1, Defensive Driving, and more.
Global News: Deerfoot Study Featuring Derek Brown's Driving Academy
Why We're the Best of Calgary Driver's Education
We're established. Our Calgary driving school has been here a long time, since 1970.  We know what we're doing.
We're a real school. Unlike most driving schools in Calgary, ours has classrooms and several cars and trucks for driving lessons.  We're not just a start-up in someone's basement with no expertise or experience.  We'll still be around when you need us for anything, especially for paperwork or records for the registry.
Our driving instructors are expert and friendly. Our driving instructors are highly qualified and make you feel relaxed behind the wheel.  They help you pass your road test.
In our driving school, the classroom teachers and instruction are interesting.  We make the driver's ed class go by fast and enjoyable while you learn everything you need to know. We have enjoyable multi-media instruction.  You'll know so much from our driving school and our in-vehicle driving lessons, and you'll pass your road tests easily.  They are experts on what you'll face on the road tests and all the streets in Calgary. Since the classroom experience is varied, you won't be bored as in most driving lessons.  You'll enjoy yourself.
We like to stand out from the crowd. What makes us better than other Calgary driving schools? We have an online driving course. Do you want to get your class 5 driver's license but don't have time to go to driving school? We understand that life gets busy! It can be very hard to spend your Saturdays in a Calgary driving school class. We offer an alternative to what most Calgary driving schools offer. That's why we have created our online driving school course. Register today to join the driving school Calgary loves!
Call our driving school at (403) 272-4246 to ask more or enroll today.
What Driving Courses does Derek Brown's Academy Offer?
More about Our Driver's Ed Courses
We Have an Awesome Calgary Truck Driving Courses - And the Best Bus Driving Education
Latest Testimonials
I went to Derek Brown's to help me for my Class 5 Beginner's Road test. The inclass instructors prepare you well for the inclass exam. My driving instructor, Teri, is a great teacher.

Allyssa Sicam, Calgary
I strongly suggest that all new drivers looking to get there drivers license should go here! The instructors are great here, the explain driving techniques and will show you for better understanding if needed. If you have a question they will answer and explain why that would or would not be. They help me with learning new techniques for parking that I was struggling with. They are very nice, fun, and DO not make the driving stressful while you are driving with the instructors. 5 stares and 100% would use this academy again for something like a licenses upgrade.

Austin Doucette
COVID-19 Update for Our Derek Brown's Academy
During these extraordinary difficult times, as the COVID-19 (Corona) Pandemic continues to impact our communities, employee and valued customers, we would like to take this opportunity to reach out and let you know that we strive to ensure the cleanliness and sanitation of our classrooms, cars and trucks which are cleaned and sanitized daily to ensure safety and good health for all students and employees. We remain committed to our customers and will continue to provide services that are needed. Derek Brown's Academy of Driving of Calgary is still open for business and continues to be a safe place. We will continue to update as the situation evolves. We are monitoring the news closely and ensuring our own best practices, your health and well-being and that of our employees remains at the forefront. On behalf of our entire team, we look forward to continuing to serve you. Keep Safe and Stay Healthy.