Why We're the Best of Calgary Driver's Education
We're established. Our Calgary driving school has been here a long time, since 1970.  We know what we're doing.
We're a real school. Unlike most driving schools in Calgary, ours has a training school classroom and several cars and trucks for driving lessons.  Other schools can sometimes just be a start-up in someone's basement with no expertise or experience.  Our driving school will still be around when you need us for anything, especially for paperwork or records for the registry.  Training school drivers have what they need for success!
Our driving instructors are expert and friendly. Our driving instructors are highly qualified and make you feel relaxed behind the wheel.  They help you pass your road test.
In our driving school, the classroom teachers and instruction are interesting.  We make the driver training school go by fast and enjoyably while you learn everything you need to know. Our driving school has enjoyable multi-media instruction.  You'll know so much from our driving school and our in-vehicle driving lessons, and you'll pass your road tests easily.  They are experts on what you'll face on the road tests and all the streets in Calgary. Since the school classroom training experience is varied, you won't be bored as in most driving lessons.  You'll enjoy yourself in our drivers ed.
We like to stand out from the crowd. What makes us better than other Calgary driving schools? We have an online licensed driver training course. Do you want to get your class 5 driver's license but don't have time to go to driving school? We understand that life gets busy! It can be very hard to spend your Saturdays in a driving school class. We offer an alternative to what most Calgary driving classes offer. That's why we have created our online driving school course as another option for driving education. Register today to join the driving school Calgary loves! Other schools simply do not compare.
Derek Brown's New Online Driving Course
Derek Brown's Driving school is pleased to announce our new Class 5 Online Driving Course.  After years of software development, the Alberta Department of Transportation has approved our online driving school.
Learn to drive without leaving your home in Calgary.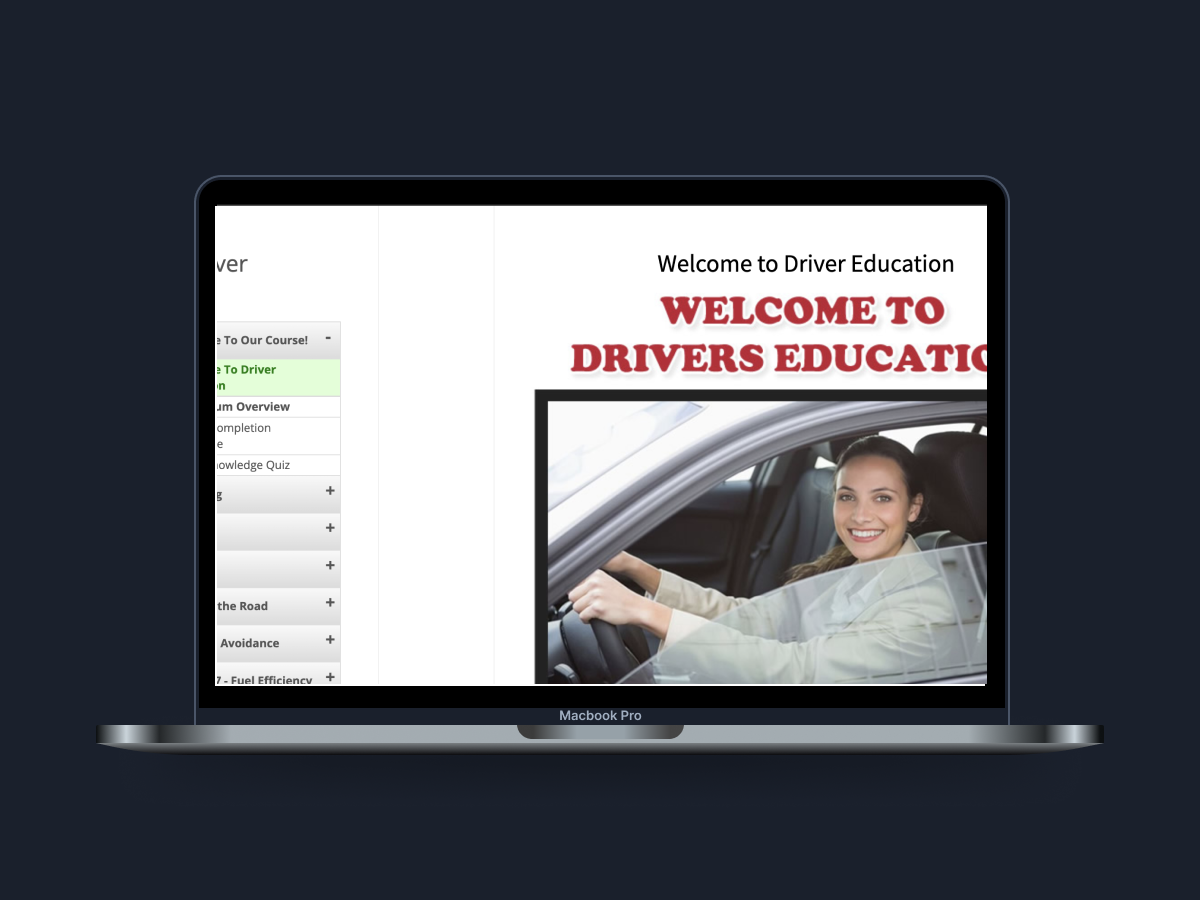 What Driving Courses does Derek Brown's Academy Offer?
REVIEWS
angelica gabriel
2022-11-02
💯I am very glad that I went to Derek Brown's driving school. 1 week after my in-vehicle lessons + everyday practice, I aced my road test and passed it during my 1st try. Im very happy and blessed that Sajid was my mentor/teacher both lecture and in-vehicle road practice. I can really feel his passion and dedication teaching the student drivers. His patience was immeasurable. He's very accurate and precise specially when teaching parking. Im also glad that it snowed during my last in-vehicle lesson I have finally overcame my fear of driving on snow. He gave me realistic and useful lessons when driving on a snowy and slippery road. Big big THANKS to MR. SAJID. 💯 recommend.
Malachy Gorman
2022-10-28
Qusay was a fantastic instructor, he taught me how to drive from knowing basically nothing about driving to being road ready in just 4 days. Highly recommend.
As someone who got her learners license quite young but never got behind the wheel due to being afraid of the road, I did not believe that I could become a good driver. My instructor Qusay helped me feel more comfortable driving and I no longer fear the road. He gave me constant reassurance and was very patient with me throughout all of our lessons. His years of experience and ability to direct my through areas I was afraid of gave me the confidence and ability to learn to drive, despite my hesitance.
I went here for my class 5 and I couldn't be happier with the confidence I gained here on driving and my knowledge on the rules of the road!
So so so amazing. It is so worth it. Thank you Hasson (in class instructor) and thank you Robert(in car instructor) . Robert is so patient , supportive and funny as well. Will definitely recommend to anyone with my heart.
I was very nervous and I had barely any driving experience before starting. Qusay from the start was very informative and helpful and guided me through the whole process. Amazing driving instructor!
Joaquin Ovando
2022-10-14
Ahmad made me feel extremely confident in my driving, I don't know what I would've done without Derek Brown's
Therian Bryant
2022-10-12
I just passed my class 1 melt program and I am thrilled. Everyone at this school is friendly and accommodating. Dan was very informative in class training had a lot of experiences to share. Sonny was my driving instructor he was very thorough and patient. Pam at the front desk was so patient as well. She's a super busy gal but she stays on top of everything and was always able to be accommodating with my schedule. Thanks so much for the adventure into new beginnings!
Great driving school. My instructor was Qusay and he was excellent and nice to have as a instructor, nice to talk to and was very sociable.
Syed Rahil Tarique
2022-10-07
My instructor Qusay is extremely knowledgeable and I learned things from him about driving that I didn't know before. He is very helpful and patient and gives a lot of useful tricks and tips. After 4 classes I feel way more confident about driving than I was at the beginning.
We are located at 1809 42nd Street SE Calgary AB T2B 1G1.
Our driving school has plenty of parking on the east side of the building. There are stairs to our second floor office.