Q Endorsement Airbrake Course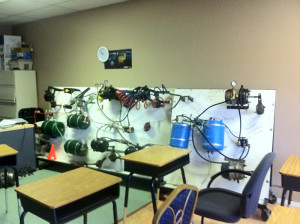 To obtain a Q endorsement  on your license, you must first complete the Q endorsement air brake course  training.
This course is designed to provide a truck driver trainee with the best practices, theory, and hands-on training required for the air brake endorsement. Truck driving students successfully completing this course will receive a certificate to qualify them to enter the registry test. Upon completion of the test, they will then have the Q endorsement on their Alberta Drivers License.
Other Truck Driving Tests:
We'll prepare you for all necessary tests. We have several courses for truck driving instruction. Click here to view all of our truck driving courses.
Call (403) 272-4246, or fill in the form below, to enroll today.