Class 5 Course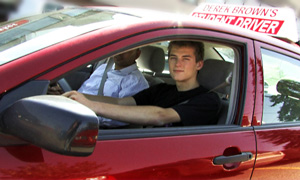 This basic driving course will prepare you for your Class 5 road test.  It includes fifteen hours of classroom time and ten hours of driving time.  Classes are held on Saturdays and Sundays in the office from 10:00am until 3:30pm.  They are split into three 5 hour sessions.  Driving time consists of five 2 hour lessons that can be booked anytime Monday to Saturday between 8:00am and 8:00pm.  Upon successfully completing the course, a certificate of insurance will be issued.
Now offering a Class 5 course online so you can learn at our driving school without leaving home! This course is available online 24/7 365 days a year. Call for more information. (403) 272-4246.
A class 5 license permits you to drive any two axle single motor vehicle, including a moped but excluding a motorcycle.  You will also be allowed to operate a recreational vehicle with a trailer so long as the trailer has no more than 2 axles and is NOT equipped with air-brakes. You must be at least 16 years old to obtain a class 5 license.  You must be at least 14 years old, and have a class 7 license, in order take this course.
In preparation for the test, you can download the driving rules booklet from the Alberta Government Website.
Call us at (403) 272-4246, or fill out the form to enroll.
Learn more about our driving school.