Derek Brown's Academy of Driving is proud to be the leading truck driving school in Calgary.
We provide our truck driving students a hands-on, comprehensive commercial transport training and heavy truck driving lessons for Class 1 and Class 3 licenses. We boast a fleet of five types of semi-trucks, tractor-trailers, and other commercial transport vehicles for a fully comprehensive training experience.
Big rig and commercial transport truck drivers who have completed our courses are competitively employable and 100% ready for the road. Employers recognize Derek Brown's Academy of Driving as being an industry leader in providing top-notch commercial and transport truck driver training. Our comprehensive and immersive commercial truck driving courses offer students the opportunity to learn:
Large commercial truck driving knowledge
Transport truck safety skills
How to Start:
Give us a call (403-272-4246) so we can discuss and understand what is be best suited for your situation. We can then assess which truck driving course or courses will fit your needs and goals and recommend an appropriate training plan.
Not sure which course is right for you?  Check out the Alberta Drivers Licence Requirements
Our Calgary Truck Driving School:
We have Tractor Trailer, Single Truck, and Q Air Brake Instruction, including classroom, simulator, and in truck training driving lessons with highly experienced and knowledgeable instructors. We even have our own trucks so you don't pay for a rental and can save your hard earned cash!
We provide more instructional hours than most other truck driving schools. We also offer employment leads for students who successfully complete our commercial truck driver training program.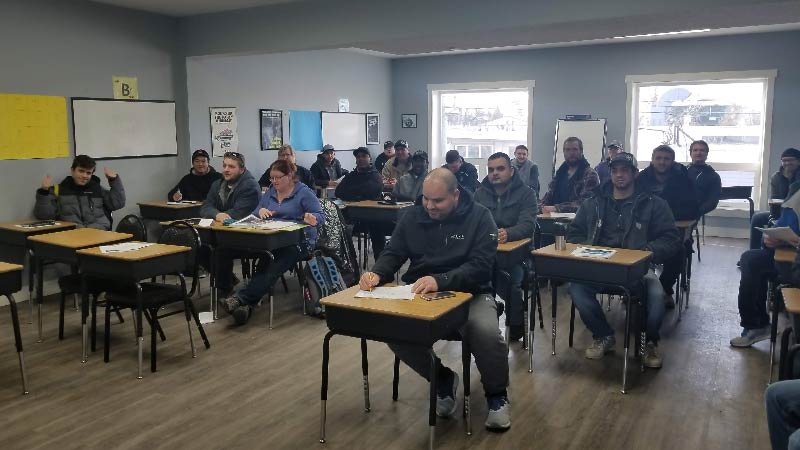 Start training for your new truck driving career today!
Truck Driving Tests:
Our training fully prepares students for all required licensing tests and certifications.
Class One Course:
We offer a special class for Class 1. Click here for more information of our Class One Instruction and Training Course.
Class Three Course:
We also offer a special class for Class 3. Click here for more information about our Class Three Instruction and Training Class.
Q Endorsement Course:
Our Q Air Brake Endorsement course provides the training students need in order to obtain an Q Air Brake Endorsement.
Professional Driver Logbook Course:
A class for people who want to learn how to fill out a logbook the proper way (something which employers truly appreciate!).
Professional Driver Improvement Course (PDIC):
Avoid potentially dangerous situations in this course designed to make you a better truck driver.
Super B Course:
Looking to upgrade your Class 1?  This course teaches you the essentials of driving with a B-Train style trailer.
Call us at 403-272-4246 for more information.
Exciting News – New Truck Driving School in Lethbridge
Derek Brown's Driving Academy is now opening a new truck driving school in Lethbridge. Stay tuned for more information…