Calgary Driving School
>> Truck Driving School
Truck Driving School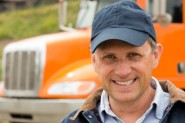 Derek Brown's Academy of Driving is the leading Calgary truck driving school.
How to Start:
Give us a call so we can discuss and arrange what would be best suited for your situation. We would then be able to assess what truck driving course or courses would fit your needs.
Check out Alberta's driver's license requirements.
Our Calgary Truck Driving School:
We have Tractor Trailer, Single Truck, and Q Air Brake Instruction, including classroom, simulator, and in truck training with highly experienced and knowledgeable instructors. We even have our own truck so you don't pay for a rental and can save your hard earned cash. We have more hours of instruction than most other Truck Driving Schools. We also have leads for employment. Start training for your new truck driving career today.
Truck Driving Tests:
We'll prepare you for all necessary tests.
Class One Course:
We offer a special class for Class 1. Click here for more information.
Class Three Course:
And we also offer a special class for Class 3. Click here for more information.
Q Endorsement Course:
You must first complete an air brake training course to obtain an Q air brake endorsement.
Call (403) 272-4246
Truck Driving Courses:
| | | |
| --- | --- | --- |
| Air Brake | Air Brake Instruction (Q Endorsement) Eight hours of Classroom Instruction. | Truck |
| Class 1 | Fourteen Hours In-Truck Training, including Air Brake, Two Hours Driving Simulator | Truck |
| Class 3 | Twelve Hours In- Truck Training, including Air Brake, Two Hours Driving Simulator | Truck |