Class 1 Course
Derek Brown's Academy of Driving is the leading truck driving school in Calgary.  We have other driver's education courses you may be interested in.
A Class 1 Truck Driving Course will prepare you for success in both your exams and your career as truck driver by giving you a solid background and practice in the art of trailor-tractor driving, making the whole process is easier for you. We have in truck, simulator, and classroom training.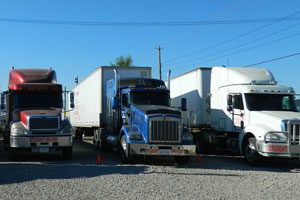 You will get coaching and practice in these areas and more:
Fourteen hours of one on one driving in real truck
Two hours practice in truck driving simulator
Log Book Course 6 hours (last Tuesday of each month 9:00am – 3:30pm)
Cargo Securement Course 7 hours (First Tuesday of each month 9:00am – 5:00pm)
Expert driving instruction in the tractor trailer rig
Joining and coupling the rig to the trailer
Before trucking trip or pre-trip inspection tips and practice
Air brake instruction and practical experience
Up and down shifting with trailer
Backing up with a truck and trailer skill, backing truck up in a straight line, 90-60 degree backing up
Highway driving
Turning narrow corners or hard to navigate parts of the route
Proper use of mirrors
On-road skill and practice in our own truck on Calgary streets and highways
Hill parking instruction and advice
Includes truck rental for road test
Full Class 1 Course cost: $1995
Knowing and practicing all of this will help you pass the Provincial Road Test – an exam that takes about 1.5 hours.
How to Start:
You can start training for your new or enhanced career today. Give our friendly and experienced receptionist a call and we will help you decide what course and training is best for you and how we can best help you succeed. Call (403) 272-4246.
Our Calgary Truck Driving School:
We have Tractor Trailer, Single Truck, and Q Air Brake Instruction, including classroom, simulator, and in truck training with highly experienced and knowledgeable instructors. We even have our own truck so you don't pay for a rental and can save your hard earned cash. We have more hours of instruction than most other Truck Driving Schools. We also have leads for employment. Start training for your new truck driving career today.
Truck Driving Tests:
We'll prepare you for all necessary tests.
Q Endorsement Course:
To obtain an Q air brake endorsement on your license, you must first complete an air brake training course.
Professional Driver Logbook Course:
A class for people who want to learn how to fill out a logbook the proper way.
Call us at (403) 272-4246, or fill out the form below, to enroll today.
Ask about our convenient Instant Payment Plans when you register for this course.